Positive correlation between US stocks and bonds reveals growing concerns about inflation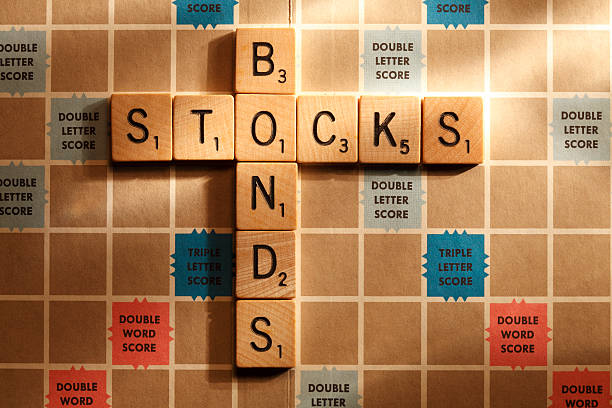 The correlation between US stocks and bonds turned positive and continued to rise. The phenomenon, not observed since September 2020, probably reveals a growing aversion to risk, driven by rising inflation expectations. The correlation could turn negative again, making it easier to diversify assets, if inflation turns out to be transient and central banks could maintain their expansionary monetary policies. Otherwise, persistently higher inflation could force central banks to abandon easing earlier than expected, tightening corporate financial conditions.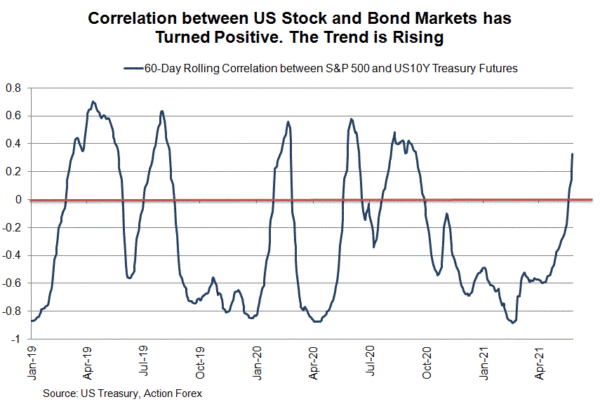 Inflationary pressure in the United States continued to intensify. The headline CPI jumped to + 4.2% y / y in April from + 2.6% a month ago, while the core reading nearly doubled to + 3% y / y last month, against a consensus of + 2.3%. Personal consumption expenditure (PCE) in the United States, the Fed's preferred inflation gauge, is expected to have edged down to + 2.2% y / y in April, from + 2.3% a month ago . The core reading is expected to accelerate to + 3% y / y, from + 1.8% in March. The Fed viewed the inflation overrun as temporary and that there is no need to adjust monetary policy. However, if the upward trend in inflation persists in the coming months, members will need to adjust to a more hawkish stance.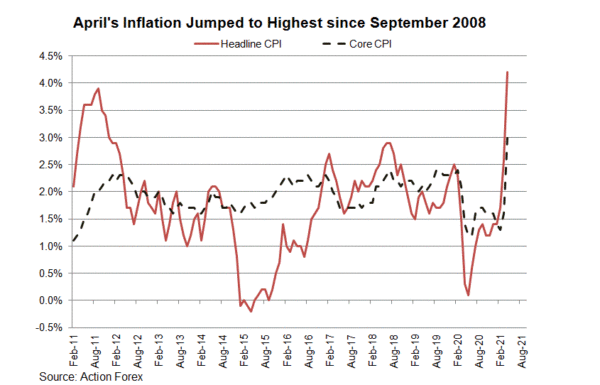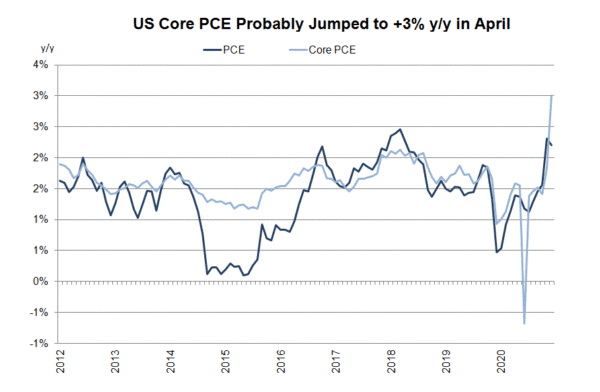 Inflation expectations have also strengthened. Although moving away from the 8-year high, the 10-year breakeven inflation rate in the United States remained at a high level of 2.42% as of May 27. The 5-year breakeven inflation rate also remains at around 2.6%, just below the 16-year high. of 2.72% achieved earlier this month. The latest New York Fed report reveals that households expect inflation to hit its highest level in nearly a decade next year. As suggested in the April Consumer Expectations Survey, households expect inflation to rise to + 3.4% in one year, the highest since September 2013, and to 3.1% in three years.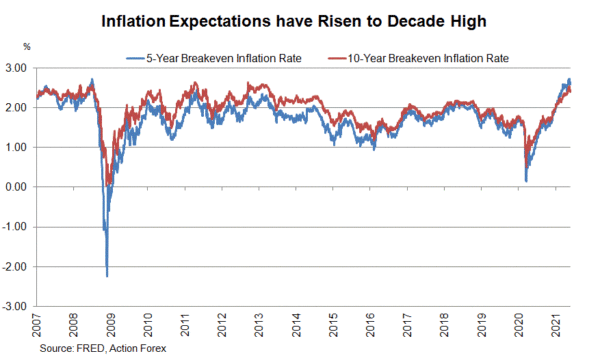 Fed Vice Chairman Randal Quarles recently called for talks on reducing QE. He said the reduction in asset purchases could occur later this year, even after "discounting the temporary factors" of inflation. As Quarles noted at a Brookings Institution conference, "If my expectations regarding economic growth, employment and inflation over the next few months are confirmed. . . and especially if they arrive stronger than I expected. . . this will become important for the [Fed] to start discussing our plans to adjust the pace of asset purchases in future meetings ". He added that the Fed "may need additional public communications on terms that constitute further substantial progress since December towards our broad and inclusive definition of maximum employment." Heightened speculation that the Fed will soon cut its stimulus measures should lead to higher yields and lower bond prices. If these lead the market to fear that corporate profits are being hampered by higher borrowing costs, the stock market could suffer as well, supporting the positive correlation between the stock and bond markets.